Tired of high energy costs? A home energy audit that you can help you potentially cut your energy expenses up to 50% per month!
An energy audit conducted by a qualified energy professional can quickly open your eyes to how much of your hard earned money is being lost every month from your home. A proper home energy audit can pinpoint and provide insights as to what improvements need to be made to make your home more energy efficient.
Another added benefit to an energy assessment is that it can contribute to making your home more comfortable and safer by assessing poor indoor air quality caused by air leaks and improper insulation.
Ready To Save Money? Call 888-503-1304 or Fill Out The Form Below To Get Started!
What Is A Home Energy Assessment or Efficiency Audit? Is A Home Energy Audit Worth It?
A home energy audit or "home energy checkup" helps you understand the whole picture of your home's energy use, comfort, and safety. A professionally done energy inspection can help you determine how much energy your home uses, where you have inefficiencies, and what problem areas you should prioritize to save energy and improve the overall comfort of your home.
Performing a home energy audit should be your first step before making energy-saving home improvements, as well as before adding a renewable energy system to your home.
Symptoms of Homes In Need Of An Energy Audit:
High electric bills
Drafty doors or windows
Inconsistent room temperatures
High oil or gas bills
Schedule a residential energy inspection on your home's energy system(s). A certified energy contractor will thoroughly test how your home uses and loses energy and recommend what the most beneficial solution would be for your specific home!
 Schedule A Home Energy Audit. Call 888-503-1304 Today To Start Saving!
A Complete Energy Inspection Identifies Your Home's Energy Weaknesses
Within the eight energy-consumption categories for a typical house, there are numerous factors that affect energy use. For example, water heating expenses depend on the efficiency of the water heater, the types of showerheads in use, pipe insulation, dishwasher and washing machine efficiency and overall hot water demand. Heating and cooling costs depend on many factors as well: insulation levels, air leakage, duct leakage, and HVAC system efficiency, just for starters.
Through various tests, inspections and calculations, a complete energy evaluation evaluates all of the features and conditions that factor in your home's overall energy performance.
How are Home Energy Assessments Done? How Long Does It Take To Do An Energy Efficiency Audit?
Trained professional energy audit consultants can perform a thorough home energy audit in anywhere from 30 minutes to 4 hours, depending on the size of your home. Professional energy auditors use a variety of specialty tools to find problem areas within your home, and provide you with a list of suggested fixes and improvements that will help make your home more efficient.
Here's what a typical energy audit might look like in your home:
First, an energy audit starts with taking a look at your home's exterior. Components such as windows, walls, and eaves will be assessed to see if there are any major issues causing air to leak into or out of your home.
Next, the auditor will check out your attic. They will inspect your attic's insulation to make sure it's not only installed correctly and applied evenly between your walls, but that it's sufficient for your home. An evaluation of the holes where electrical lines run will be assessed as well to makes sure they are properly sealed to prevent air leaks.
Finally, the audit will examine your appliances, especially your furnace and water heater. If either is up there in age, it is likely you will save money by upgrading to a more energy efficient unit. Next the energy consultant will also likely take a look at the filter in the furnace to ensure that it doesn't require replacement. They'll also check connections in the ducts in your basement to try and locate any possible leaks where you may be losing heat and energy.
When it comes to performing a home energy inspection, each inspector will evaluate different things, but ultimately, their goal is to identify the major issues and provide you with information on how to fix them.
Whole House Energy Inspections
A home energy assessment from provides you with a master plan to improve your home's energy performance, cut your utility bills, and create a healthier, more comfortable home. A home energy assessment is definitely the best money spent when you consider the return-on-investment it gives you year after year. Many energy evaluations are subsidized by local utilities or state programs and tend to be incomplete when it comes to doing a thorough inspection, even when they include free features like weather stripping or fluorescent light bulbs.
When you get a limited energy audit, you're missing out on major information. You may have major air leaks that are hard to find, a furnace that isn't venting properly, or a ductwork system that's dumping air from your attic or basement into your living space.
Home Energy Audit Companies
If your home will benefit and help you save money on energy costs, a home energy assessment is well worth the cost. Schedule an energy assessment today.
Lower Home Energy Costs Up To 50%. Call 888-503-1304 or Fill Out The Form Below To Schedule A Home Energy Audit!
Commonly Asked Home Energy Audit Questions
How Much Does A Home Energy Audit Cost?
The cost of a home energy efficiency audit depends on variety factors such as what test is best for your home, how large the home is, and what needs to be assessed. With a home energy audit, you can get as simple or detailed an assessment as you want. If you decide to go for a more labor or time intensive home energy audit, the use of special equipment such as a blower door test might be needed. According to Home Advisor, a home energy audit will cost anywhere from $0.08 to $0.50 per square foot with a minimum of $100 to $200.
No matter what type of home energy audit you get, the goal is to find ways to help you save money by finding problems that impact energy consumption.
Depending on the process that will be used by home energy consultants, a home energy assessment can take anywhere from 30 minutes to 4 hours to be completed. Again, this is dependent on the type of home energy audit, so the more intensive and in-depth the testing is, the more time it will take to complete.
Based on this, the cost of a home energy audit can vary and there is really no way to know the exact cost of an energy audit service until a consultant gives you an estimate. On average, most homeowners spend around $250 up to $500 for a residential energy assessment. As said before, this depends on the size of the house and how in-depth of a test is being performed.  As a final piece of information, older or larger homes tend to be the most expensive.
What Are The Types of Home Energy Audit Is Best For My Home?
There are three common whole house energy audit types that you can choose from such as:
Standard home energy audit
Standard energy audit with blower door test
Standard energy audit with blower door plus infrared.
To learn more about each type of home energy audit and what is best for your home, call today to schedule a home energy audit.
Are Your Home Energy Bills Too High? Call 888-503-1304 To Learn How You Can Save!
What As A Blower Door Test and Why Is A Blower Door Test Used For A Home Energy Audit?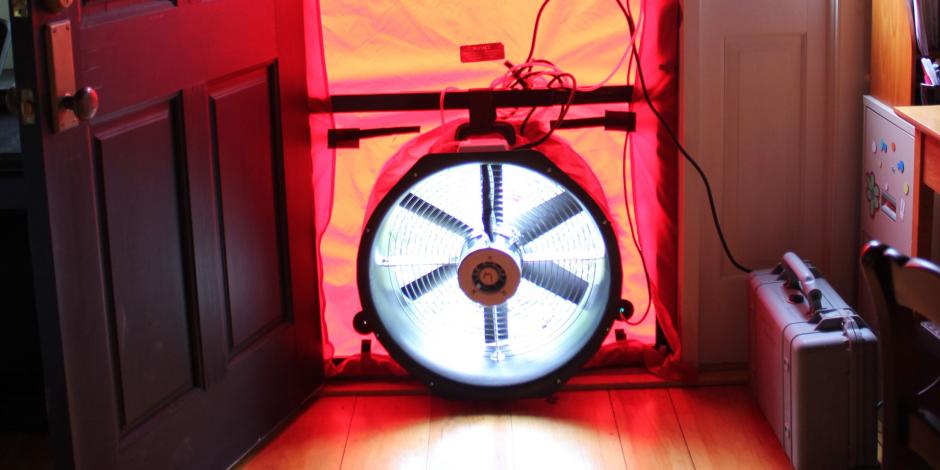 A blower door test utilizes a piece of equipment called a blower door that is used to determine just how much air you lose due to air leaks. Determining the source of these leaks and understanding how to properly fix them can help you keep conditioned air inside your home which can contribute to a major reduction in energy loss, thus lowering your energy bills.
Most residential energy audits benefit from the use of a blower door test providing the most insights as to where your home is losing energy via air leaks. When you schedule a home energy audit and blower door test , the home energy consultant will provide you with the most information possible when it comes to making energy efficient improvements.
What Do I Need To Do During A Home Energy Audit In My Home?
As a homeowner, you do not need to worry about anything while a home energy audit is being done.  However, prior to getting a home energy assessment, it is highly recommended that you take the time to find and point out all the areas of your home that you are having some problems with in regards to possible air leaks.
By doing this before hand you can help in making the energy audit process quicker and give the energy consultant and idea of trouble areas. Looking to find the most common areas of you home that are assessed during an energy audit and contribute to the most energy loss and air leaks?
Download our FREE 54 point home energy audit worksheet and checklist to learn more.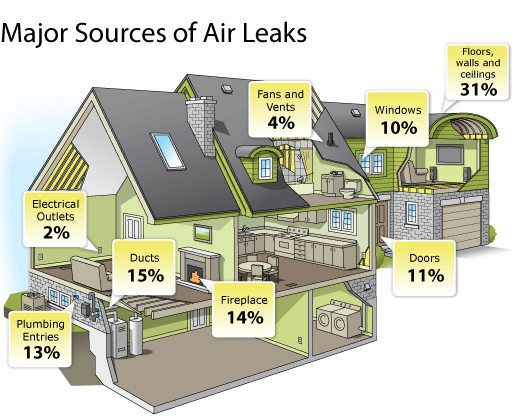 Audit Rebates
If you're looking to get a reduced cost home energy audit, it is highly recommended to contact your local commercial energy provider about possible rebates. Local energy companies sometimes offer seasonal rebates and incentives to homeowners who are finding ways to help reduce their energy consumption.
More often than not, home energy assessment rebates usually range anywhere from $50 to $150, and sometimes free based on income eligibility.
Ready To Cut Your Monthly Energy Costs? Call 888-503-1304 or Fill Out The Form Below To Get Started!
Home Energy Services
Energize CT Home Energy Audit
Eversource Home Energy Audit
UI Energy Audit